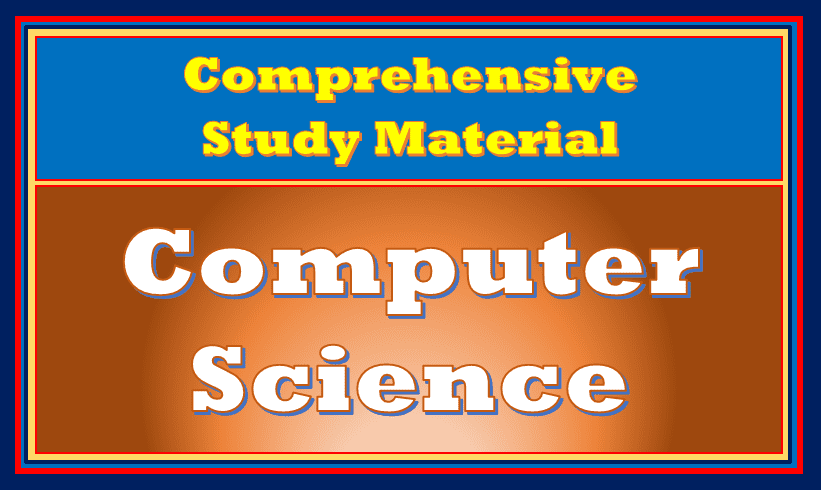 Computer Science with python CBSE study material article provides you with personalized and easy notes, assignments, practical lists and solutions for class 11 and class 12.
CBSE Computer Science 2022-23 Notes and Study Material
According to CBSE syllabus 2022-23 or CBSE session 2022-23 syllabus, Subjects like Computer Science, and Informatics Practices help in making students perceptive about technological breakthroughs in science. The focus is on knowledge and skills to develop a scientific attitude and to use and apply such knowledge for improving the quality of life. This learning can be used to analyze and evaluate existing scenarios and propose innovative solutions to situations. Learners understand and appreciate the technological world and acquire the knowledge and develop attitudes, skills, and values to make rational decisions in relation to it.
Click here to download the complete guide released by CBSE.
Download computer science CBSE class 12 for the session 2022-23
Click here to download the syllabus released by CBSE.
Computer Science class XI
Computer Science Class XI has three units:
Computer Systems and Organization
Computational thinking and programming – 1
Society, Law and Ethics
Click on the below-given button to get a complete package of notes, assignments, and practical list for computer science with python for class XI.
Computer Science Class XII
The course Computer Science class XII is divided into three units:
Computational thinking and Programing – 2
Computer Networks
Database Management
Click on the read more button to read detailed and topic-wise notes, assignments, and practical lists for class 12 computer science. If you are looking for a computer science class 12 chapter-wise weightage click on the following button.
Share this article in your friend circle to help them with the rich content. Always there is a scope of improvement so feel free to use our contact us section or comment section to provide your valuable feedback to improve our content.
Thank you